Wednesday is the middle of the week and what does it provide? It is all about getting to the rest of the week. HA!  What lies in wait though? What needs to be acknowledged today? Let's pick a card and find out!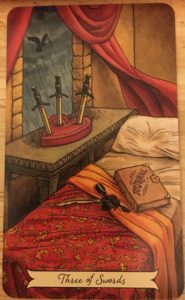 The 3 of Swords! Well I will survive the trials of this week and will move forward through the stress. Great. Well one has to go through the ups and the downs of life. More prep and more packing for the trip to NYC as well as all the other stuff too!
The EveryDay Witch Tarot by Deborah Blake and artist Elisabeth Alba.