The day is going to be a journey.  We know how life likes to change your path just as you are focused on one direction.  BUT that is the beauty of life.  You get to change direction and discover a new pathway.  Sometimes it stinks as you knew what you were doing and you were working a plan. Now you have to make a new plan.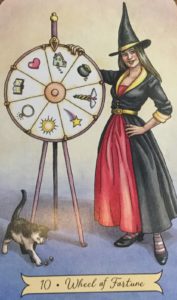 The Wheel of Fortune is the exact thing to help not throw off my balance.  I know that things may have to change to go forward. I am ready to move from one way of thinking to another if I have to do so.
The EveryDay Witch Tarot by Deborah Blake and artist Elisabeth Alba.