Tuesday seems to be like it is a relief it sin't Monday but really I have had a hard time with Tuesdays.  But it is second day of the work week, right? We know there is only 3 more "work days" to go after it is over.  What Tarot less can we learn from our deck today to help us move through out the day?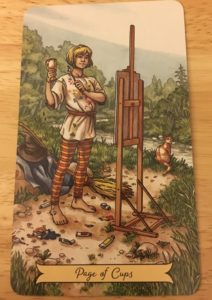 Page of Cups!  Well there you go! Time to engage my creative side.  Maybe more art work or my chosen art, Cross Stitching! I have a couple of things I am working on so it is time to give myself some focus on this and get those projects done. What art can you work on?  Share if you like.  I will do the same as soon as I finish the small project.
The EveryDay Witch Tarot by Deborah Blake and artist Elisabeth Alba.