Well it is later in the day than I like but we are still traveling this open road to Reader's Studio 2017.  I am swamped at the day job. I am working hard on my Pagan Path work as well as enjoying time with the chosen and blood family.  It seems that today's pull is really about creating that space to do the work and using my tools to make it happen.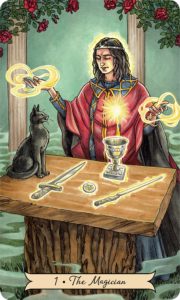 The Magician reminds me that I have what I need to get the job done. Just need to use my powers and find my focus. My tool set is right there so empower it to help me in my work.  And if I am lucky my familiar will be there to strengthen me as I go.  I like it!
The EveryDay Witch Tarot by Deborah Blake and artist Elisabeth Alba.