It is Saturday and I had a nice breakfast with my mom.  She is a very strong woman who inspires me everyday.  If she had Paganism around her as she grew up I am sure she would be a very powerful Coven Leader. She is loving and cares for the people in her community as well as her family. It is something I try to do in my community and for my chosen family as well.
And the card for today is: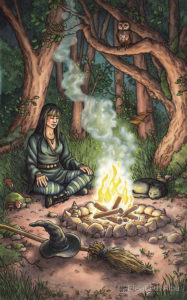 9: The Hermit- Time to do some inner soul work. Get in touch with what I am looking to do with my Tarot. Focus on the part that makes me happy. Enjoy the quiet contemplation of the possibilities. Make my plans and create the steps I need to follow. It is time to get clear.
The EveryDay Witch Tarot by Deborah Blake and artist Elisabeth Alba.