Sacred Days of Yule Interpretation -This spread will help you to learn to apply the tarot to enjoy and enrich your passage through the twelve festive days from December 20th to 31st. The meaning of each card in the spread reflects the energy of the festivity associated with each of the twelve days. I will be using the Steampunk Tarot by Barbara Moore and Aly Fell.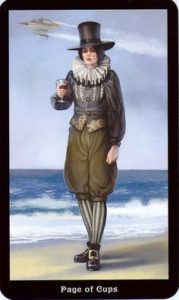 1. Mother Night of Dreams: – Dec 20th This card reminds us to look for a particular message in our dreams tonight. The ancients believed that our dreams on this night foretold some of the important events in the coming year.
I picked the Page of Cups! I will see what new adventures I will be taking in my dreams that will be foreshadowing of the coming year tonight. Once I do I will add to this post and let you know what I dreamed!
EDIT:  Dreamt of new adventures and new talks with people I enjoy. Hmm More blogging and networking in 2017 I am guessing!
For more on the Sacred Days of Yule read this: http://roseredtarot.com/?p=769