previous blog | MASTER LIST |next blog
Thank you Morgan!
This Tarot Blog Hop we were offered two themes and I chose to create a recipe for Spring Equinox.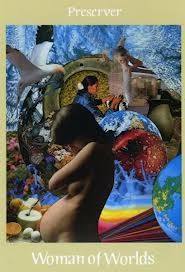 The Spring Equinox is all about fresh starts to me. I look at my decks and pick ones that give me a fresh view on the world as the new season begins.

This Spring I chose to visit an old favorite, The Voyager Tarot by James Wanless. I feel that the vibrant colors and the use of collage feels very Spring into action for me. I shuffled and randomly chose the The Woman of Worlds- Preserver. This card shows that life is special and magical if one is willing to share the past and grow from it. One can learn and save the beauty of the old ways but also update the past with present understandings and knowledge. Love can grown when it is nurtured and protected as can our ideas. We can all look at Spring that way. It can flourish when we nurture and protect it. If you give them life, your ideas can grow, change, and blend to share old passions and build new traditions. This is the lesson we can learn from the Woman of Worlds-Preserver.

But what can we create with the Woman of Worlds that really expresses that energy at work? What is the "Secret Ingredient" in the recipe of life that Woman of Worlds enhances and shares in Spring?

Well if I were to create an oil blend featuring the Woman of Worlds, it might go like this:

Woman of Worlds Spring Oil Blend
Start with 6 drops of soft leather musk oil (this is representative of the Woman of Worlds herself)
Add 3 drops of lavender oil for relaxation
Add 2 drops of lemon for a clean shot of freshness
Add 3 drops of gardenia for softness and joy
Mix the above into an Almond Oil base.
Stir together and wear on days to bring in the brisk feeling of a Spring morning and dance in the Woman of World energy in this oil blend.

Now hop on over to Traci's blog, Tarot for the Times, for more Spring Equinox fun.


previous blog| MASTER LIST| next blog