Sacred Days of Yule Interpretation -This spread will help you to learn to apply the tarot to enjoy and enrich your passage through the twelve festive days from December 20th to 31st. The meaning of each card in the spread reflects the energy of the festivity associated with each of the twelve days. I will be using the Steampunk Tarot by Barbara Moore and Aly Fell.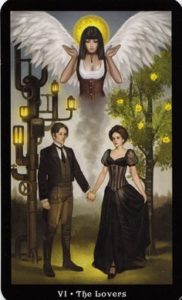 10. Day of Nymphs – Dec 29th This card encourages us to connect to our playful side, our inner child and how best to cultivate this aspect of ourselves.
The Lovers are the reminder to connect to others. I need to keep in mind that we love whom we love and we must enjoy all the best parts of life that we can. We only have 1 shot at life and it is time to play.
For more on the Sacred Days of Yule read this: http://roseredtarot.com/?p=769