Sacred Days of Yule Interpretation -This spread will help you to learn to apply the tarot to enjoy and enrich your passage through the twelve festive days from December 20th to 31st. The meaning of each card in the spread reflects the energy of the festivity associated with each of the twelve days. I will be using the Steampunk Tarot by Barbara Moore and Aly Fell.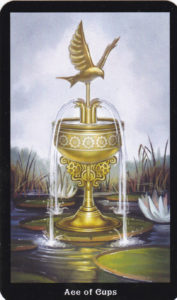 7. Yuletide, Kwanzaa: – Dec 26th This card shows us how to express nurturance, to attend to our families and to express the protective energy within us towards others.
I pulled the Ace of Cups for today. Well this is a great card to offer hope and emotional connection to be with our families and engage each other.  Get out and hang with your family of choice or birth today is what I say!
For more on the Sacred Days of Yule read this: http://roseredtarot.com/?p=769