Sacred Days of Yule Interpretation -This spread will help you to learn to apply the tarot to enjoy and enrich your passage through the twelve festive days from December 20th to 31st. The meaning of each card in the spread reflects the energy of the festivity associated with each of the twelve days. I will be using the Steampunk Tarot by Barbara Moore and Aly Fell.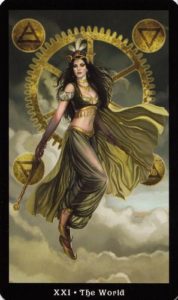 5. Feast of Mothers, Christmas Eve: – Dec 24th This card shows how we can connect with the spirits of our ancestors for communion and to ask for wisdom and guidance. It is also a time for Christians to reflect on the birth of Christ.
For today I pulled The World. It seems appropriate for today. Connecting with family is a great way to spend today and through those connections we can connect to our ancestors who went before us. Embrace an ancestor and maybe have a conversation with their spirit today. I am going to go throw my Charms and see what they have to share with me.
For more on the Sacred Days of Yule read this: http://roseredtarot.com/?p=769