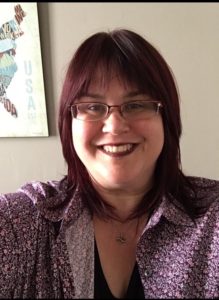 My name is Rose Red Robinson and I love a good story. I see the world as a series of interconnected narratives that form a larger epic tale. In a session with me, I will reveal the story in play and I will help you skip ahead to find the chapters that connect with your current vision of what you want your life to look like.

I hold a Reader, Mentor and Coaching certification in the Voyager Tarot method of reading and coaching.

What that means is I have tools and methods to help you get to the heart of your issues with a colorful deck that can speak volumes to you.
(It isn't the only deck in my arsenal but it is a favorite.)
I am an intuitive Tarot and Lenormand reader. I am the host of the Tarot Visions Podcast on the 1st Friday of the month. Find me on your favorite podcasting app.
Contact me at:
Email: roseredtarot@gmail.com
Phone : (925) 621-8225.
Twitter: @roseredtarot
Facebook: https://www.facebook.com/rosered.robinson
Associations Rose is a member of: