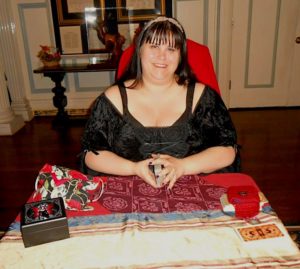 How can one get a reading from you? Easily! Go visit my Services page where you can schedule the reading of your choice. I am available to do remote readings in the evenings on Mondays, Wednesdays and Thursdays from 7:30- 9:45 pm PST. You'll need to book an appointment a week in advance. I also need you to email me the details (a question or quick summary of your issue) of what you want more insight on so we can have a focus of your reading. If you don't have a topic, that's okay. Just let me know and we'll work out the details later.
~~~~~@-'-,–@-'-,–@-'-,–~~~~~~~~~@-'-,–@-'-,–@-'-,–~~~~~~~
What does Tarot mean to you? I look at Tarot as a way to gain insight to questions and life lesson. It can help one flesh out an idea or goal. It can be used to create a path to get to a goal or it can help to be a way to confirm a decision path.
~~~~~@-'-,–@-'-,–@-'-,–~~~~~~~~~@-'-,–@-'-,–@-'-,–~~~~~~~
Can you predict the Future? I don't claim that I can because the "future" is not a set value to me. When one does anything, we change our path that leads to the "future." I look at what I do as more Fortune Creation. I work with what is before me to help spot challenges that may appear. I help facilitate a path so that you can move forward with your dreams and goals.
~~~~~@-'-,–@-'-,–@-'-,–~~~~~~~~~@-'-,–@-'-,–@-'-,–~~~~~~~
What is your training? In addition to over 20 years of self study with the cards, I have studied with Thalassa Porter, Anastasia Haysler, Mary K. Greer and Rachel Pollack. I have attended and studied at the Tarot School's Reader's Studio in New York City. I have received certification from James Wanless in the Voyager Tarot system as a Reader, Mentor and Coach. I have done over 300+ readings for a variety of people across the country as well as online.
~~~~~@-'-,–@-'-,–@-'-,–~~~~~~~~~@-'-,–@-'-,–@-'-,–~~~~~~~
What are Reversals? Do you use them in your readings? A card is called reversed when it appears upside down in a Tarot Spread. Some readers choose to read cards in a reversed way; however, I generally don't read reversals. I think a card has a clear meaning and doesn't need two differing meanings based on which way it is turned over. That said, however, I believe that reversals tend to show a "shadow side" of a meaning when they do appear. If a reversal does show up in a reading, I will discuss those shadow qualities that seem relevant to the querent's question.
~~~~~@-'-,–@-'-,–@-'-,–~~~~~~~~~@-'-,–@-'-,–@-'-,–~~~~~~~
Do I need to have a question to have a Tarot reading? You don't need to have a question to get a Tarot reading. You might just want to do a check in or explore an issue that you notice is a goal or plan you are exploring. A question can be helpful if you are feeling confused about an aspect of your life. If you do have a specific question in mind, I would ask you to tell me, because it helps me to get a better focus for which spread I might use to explore your quandary.
~~~~~@-'-,–@-'-,–@-'-,–~~~~~~~~~@-'-,–@-'-,–@-'-,–~~~~~~~
When did you start reading Tarot? I found my way to the Tarot when I was 18 and was exploring Wicca. I was gifted with a deck set and a cassette featuring Mary K. Greer talking about the Tarot. In college, I left behind that deck, like so many other things. When I was 28, I was reintroduced to Tarot at a small cafe by a Reader. She asked if I wanted to pick a card. I recalled my old deck which I had left behind when journeying off to college and fell in love with her deck (the Enchanted Tarot). Then I was given my first deck, The Goddess Tarot by Kris Waldherr. I was happily reading with it when I found the Sacred Rose deck by Johanna Gargiulo-Sherman. The images were very strong for me as they clicked with my love of roses. I was hooked. I have been reading with different decks since then and enjoy exploring new images and decks as I come across them.
~~~~~@-'-,–@-'-,–@-'-,–~~~~~~~~~@-'-,–@-'-,–@-'-,–~~~~~~~
What are some of your favorite Tarot decks? Why? I still love the Sacred Rose Tarot and The Goddess Tarot and use them for readings I do for myself. When clients come to me, I read mostly with the Druid Craft deck or the Voyager Tarot. I love the images in the Druid Craft, because they speak to my Irish heritage. The Voyager Tarot, on the other hand, grabs my imagination and helps me look at the archetypes in a more modern context. The Sustain Yourself Cards by James Wanless were also a deck I eny as it blends well with The Voyager deck.
I also have a whimsical side that seems to prefer Halloween themed decks. This reflects my love for both the autumn season and all things Halloween. So, when I want to connect to this energy I will use the Halloween Tarot or the All Hallows Tarot.
Currently, I am exploring the This Might Hurt deck by Isabella Rotman and The Crow Tarot by MJ Cuillinane. To hear more about new decks i am discovering, tune into my Podcast, Tarot Visions Podcast, and my blog as well and see where this exploration takes me.
~~~~~@-'-,–@-'-,–@-'-,–~~~~~~~~~@-'-,–@-'-,–@-'-,–~~~~~~~
Do you believe in or perform other forms of Divination? I do believe in other forms of Divination. I think getting insight into issues and goals can help any one. As long as you believe in the divination technique and you connect to the tool, then go for it! In addition to Tarot, I work with Astrology and Lenormand cards.
~~~~~@-'-,–@-'-,–@-'-,–~~~~~~~~~@-'-,–@-'-,–@-'-,–~~~~~~~
How can one get a reading from you? You can get various types of readings from me by going to my Services page. I am available to do remote readings in the evenings on Mondays, Wednesdays and Thursdays from 7:30- 9:45 pm PST. I require a week's notice and an email of the question or situation you want more insight into so we can have a focus for your reading. Book your reading choice here.
~~~~~@-'-,–@-'-,–@-'-,–~~~~~~~~~@-'-,–@-'-,–@-'-,–~~~~~~~
Do you read Tarot for yourself? How often do you read the Tarot for yourself? I read for myself every day by drawing between 1-4 cards, that give me a snap shot of things to remember as I go about my business throughout the day. I feel that it is nice to check in and see what I need to focus on for the day, or what energies I should be aware of that may need attention. I don't base my whole day on that one reading, however. My daily readings help me gain insight and allow me to move through my day with a clearer intent. Again it is about creating the Fortune I want to have.